Australia's aptly named Rainbow Beach is located on its northeastern coast in Queensland.
The beach is a cacophony of colors making it one of the most colorful beaches — oranges, reds, whites and more — owing to the many-hued cliffs nearby. But others like to recite an aboriginal myth when it comes to the origins of the colorful sands — that a Rainbow's broken heart shattered over the beach, to forever color it with its multi-colored shards.
Top 10 Things to Do in Rainbow Beach
View the coloured sand cliffs along the beach

Check out the spectacular views from the Carlo Sandblow cliffs

Put on your hiking shoes and take to the 46.2km Cooloola Wilderness Trail

Try your hand at beach fishing near Double Island Point or boat fishing from Tin Can Bay inlet

Jump on a horse and go for a beach-and-bush ride

Glide above the Carlo Sandblow cliff on a tandem paragliding tour

Go skydiving and land on the main beach

Have a close encounter with a pod of dolphins on a sea kayaking tour or a ferry cruise

Dive Wolf Rock, one of Queensland's best scuba diving sites

Learn to make a didjeridu or a boomerang at Rainbow Dreaming
Coloured Sands Rainbow Beach
The most popular natural attraction at Rainbow Beach is the coloured sand cliffs after which the town is named. These multi-coloured sand cliffs can be accessed on a 2km walk along the beach. The cliffs arc their red-hued way around Wide Bay, offering a sweeping panorama from the lighthouse at Double Island Point to Fraser Island in the north. The colours are spectacular and are best viewed in the early morning light.
Carlo Sandblow Rainbow Beach
Another natural wonder is the Carlo Sandblow, a spectacular 120m-high dune with amazing views over the white sandy beach and blue waters. Carlo Sandblow can be accessed via a 600m track along the cliffs at the southern end of Cooloola Drive.
Cooloola Wilderness Trail Rainbow Beach
If you enjoy bushwalking you might be interested in undertaking the 46.2km Cooloola Wilderness Trail. The track starts at Mullens car park (off Rainbow Beach Road) and trails through the national park before ending near Lake Cooloola.
Rainbow Beach Fishing
If you're a keen fisherman, head to Double Island Point for some of the best fishing in the area. The vast shoreline provides abundant beach fishing and really serious anglers can access Tin Can Bay inlet from either the Carlo Point or Bullock Point boat ramps. Both are just north of town.
Rainbow Beach Horse Riding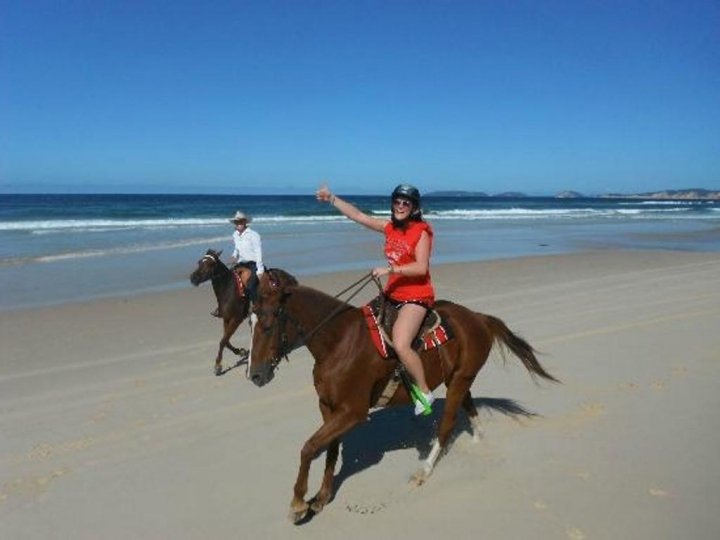 If you fancy a bit of horse riding, head to
Rainbow Beach Horse Rides
which offer beach-and-bush rides. View the beach from a different angle as you gallop in the sand with the wind in your hair.
Rainbow Beach Paragliding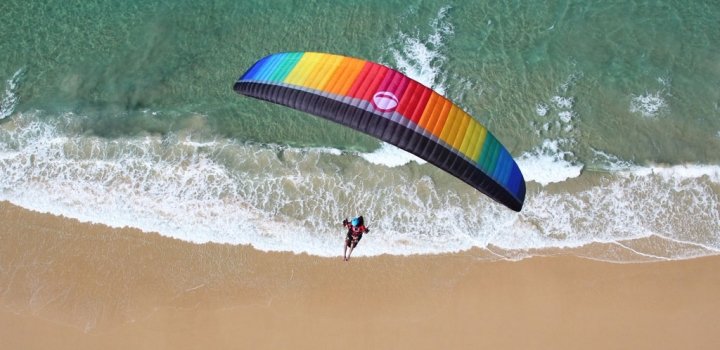 Another way to explore Rainbow Beach and view its natural beauty is from the sky on a paragliding tour with
Rainbow Paragliding
. They offer tandem glides above the Carlo Sandblow, where the state championships are held every December. If you get hooked, you can do a one-day introduction or an eight-day full-licensed course.
Rainbow Beach Skydive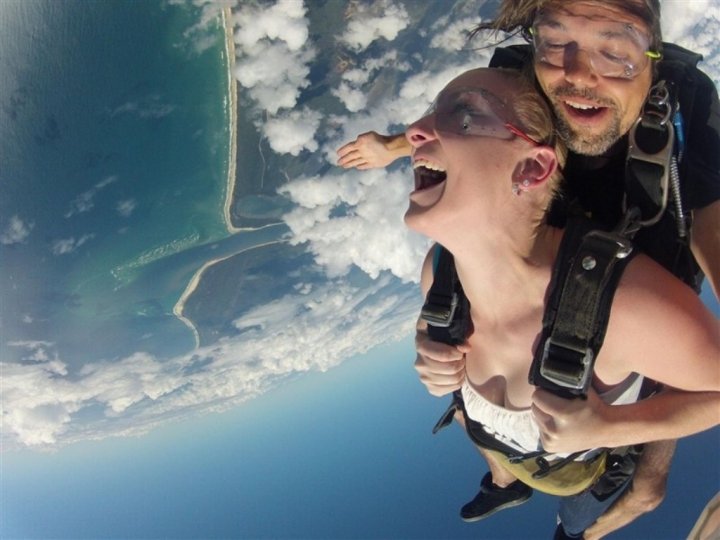 For the more adventurous people out there, consider skydiving with
Skydive Rainbow
Beach
who offers tandem skydiving trips that allow you to get a bird's eye view of Rainbow Beach before you land on the main beach.
Nature lovers will be delighted to know that a pod of dolphins are regular visitors to Rainbow Beach. You can get close to them on a sea kayaking tour or on a ferry cruise.
Rainbow Beach Dolphin View Sea Kayaking operates kayaking safaris and rents kayaks but if you'd rather surf with the dolphins, they also run the Rainbow Beach Surf School.
If you're interested in taking a houseboat cruise from Rainbow Beach, head over to Dolphin Ferry Cruise who runs leisurely houseboat cruises from Carlo Point across the inlet to Tin Can Bay. The highlight of the trip is hand-feeding Mystique, a wild Indo-Pacific Humpback dolphin who makes regular breakfast visits to the Tin Can Bay marina.
Rainbow Beach Diving
For experienced scuba divers or those interested in learning to scuba dive, you'll be pleased to know that Rainbow Beach has one of the best scuba diving sites in Queensland. Wolf Rock is a congregation of four volcanic pinnacles off Double Island Point that is teeming with gropers, turtles, manta rays and harmless grey-nurse sharks. If you're interested in scuba diving or learning to scuba dive, head to the
Wolf Rock Dive Centre
who offers guided dive tours as well as four-day PADI courses that include two dives at Wolf Rock.
For a spot of indigenous culture, you can learn to make a didjeridu or a boomerang. Rainbow Dreaming at Pippies Beach House entertains with cultural talks and Dreamtime legends while you spend half a day fashioning a 'didj' or boomerang.
Best Restaurants Rainbow Beach
There aren't a lot of dining options at Rainbow Beach; however, for the best restaurants in town take a look at the following options.
Waterview Bistro – Sunset drinks are a must at this swish restaurant with sensational views of Fraser Island from its hilltop perch. Interesting seafood dishes include crumbed garfish fillets and Sandy Straits crab linguini, but carnivores and vegetarians alike will find something to complement the view. Waterview Bistro is located on Cooloola Drive and is open for breakfast on Sunday, lunch Wednesday to Saturday and dinner Wednesday to Sunday.
Archies – This popular café perfectly encapsulates Rainbow's laid back surfer chic, serving delicious smoothies, veggie burgers, and fish in various guises. Archies is located at 12 Rainbow Beach Road and is open daily for breakfast, lunch and dinner.
Kombi Kafe – Famous for its pancakes and waffles, this small café comes recommended by the locals and dishes up typical Aussie burgers, bacon-and-egg muffins, and yummy cakes. Kombi Kafe is located at 48 Rainbow Beach Road and is open daily from 7am to 5pm.