Du khách muốn thưởng thức trọn vị của dim sum, đặc sản Hong Kong, phải học cách gọi món, vệ sinh chén đũa, gắp từng món và cả cách rót trà, gọi trà uống kèm.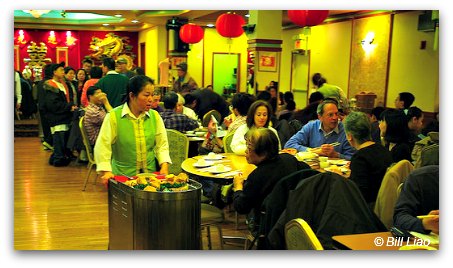 Lần đầu vào các nhà hàng dim sum, bạn sẽ gặp khó khăn trong giao tiếp vì hầu hết phục vụ ở đó không nói tiếng Anh. Vì thế, hãy nhớ những hành động dưới đây.
Một trong những khó khăn cho du khách khi vào các nhà hàng dim sum ở Trung Quốc đại lục hay Hong Kong là hầu hết phục vụ đều không nói tiếng Anh. Sau đây là một vài bí quyết từ CNN Travel và những hành động mà bạn có thể học theo để chứng tỏ bạn vẫn là những người sành điệu khi đi ăn dim sum, dù không biết tiếng Trung.
Làm sạch các dụng cụ
Một bữa ăn dim sum kiểu truyền thống sẽ thực sự được bắt đầu khi bạn làm cho mọi thật sạch sẽ. Thông thường thực khách sẽ ngồi vào bàn, vén tay áo và
bắt đầu tráng qua những đồ dùng trên bàn. Đầu tiên, họ sẽ đổ một ít trà nóng (đây là loại đồ uống giúp giảm mỡ tốt nhất) vào một tô lớn đã để sẵn trên bàn, nhúng cốc uống nước vào và xoay tròn để tráng qua. Sau đó, họ sẽ múc một ít nước trà và làm sạch đũa. Đổ bát nước trà đã sử dụng đi.
Gọi đồ ăn
Cách phục vụ dim sum kiểu truyền thống ở Trung Quốc.
Có ba kiểu nhà hàng dim sum phổ biến ở Hong Kong.
Ở những nhà hàng dim sum truyền thống, dim sum được đặt trên các xe đẩy và nhân viên phục vụ sẽ đi tới từng bàn. Người ăn chỉ việc nhìn và chọn loại đồ ăn mình yêu thích.
Tuy nhiên ngày nay, hầu hết các quán trà cũng có bán một số loại dim sum và cách thức order khác nhau. Bạn sẽ nhìn menu bằng giấy
và viết số lượng những thố (đĩa) dim sum bạn muốn.
Khoanh tròn các yêu cầu của bạn để đảm bảo người phục vụ không bỏ qua khi nhìn vào một list dài các lựa chọn. Người nhận order sau đó sẽ giơ cao những tờ giấy order để bạn thấy bạn sắp được phục vụ.
Ở nhiều nhà hàng cao cấp, người phục vụ nhận đơn đặt hàng ngoài thực đơn thông thường.
Chia sẻ đồ ăn
Bạn nên làm gì khi chỉ có 3 chiếc bánh bao kim sa mà nhóm của bạn lại có đến 6 người? Ngoại trừ việc order thêm một suất nữa, cách người Hong Kong thường làm là chia đôi mỗi phần ăn. Đây là cách tiết kiệm để dành bụng cho các món ăn khác, không để lãng phí đồ ăn. Họ sẽ chia đôi miếng bánh bằng tay hoặc đũa tùy thuộc loại đồ ăn. Nếu bạn là người phương Tây, ban đầu có thể còn hơi ngại, nhưng đó thực chất là việc rất bình thường.
Đồ uống không thể thiếu khi đi kèm dim sum là trà.
Ra dấu hiệu khi hết trà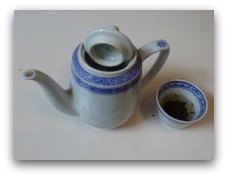 Trà là đồ uống không thể thiếu khi ăn dim sum.
Hành động mở nắp ấm trà và đặt nắp lên tay cầm, hoặc đơn giản là để trên bàn, đồng nghĩa với việc bạn gửi đi thông điệp cần thêm nước sôi.
Gõ ngón tay để bày tỏ sự biết ơn
Ở hầu hết các quán trà cao cấp, người phục vụ sẽ luôn 'canh' và rót đầy cốc trà của bạn, không để nước bị vơi.
Trong nhiều trường hợp khác, người trẻ tuổi nhất trong bàn ăn sẽ được giao nhiệm vụ này. Thường thì người ngồi cùng bàn sẽ rót trà cho người khác trước khi rót cho mình. Và khi được phục vụ, người nhận sẽ ra dấu hiệu bằng cách gõ nhẹ hai ngón tay (ngón trỏ và ngón giữa) vào phía trước cốc trà để bày tỏ sự biết ơn.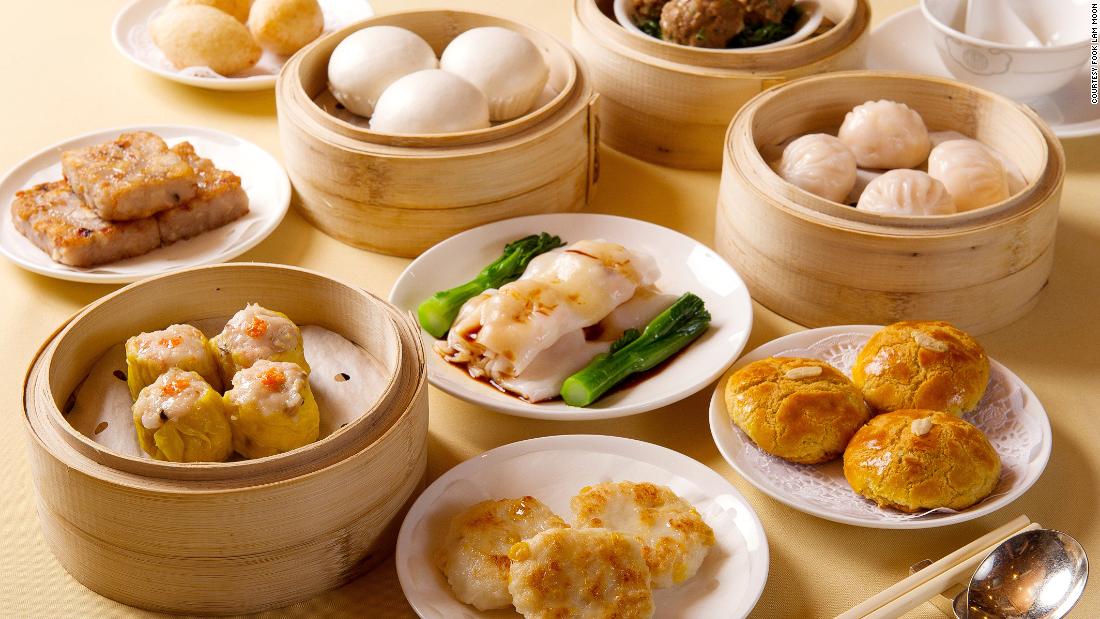 'Maai daan!'
Để ra dấu hiệu đến lúc thanh toán và lấy hóa đơn, hãy giơ tay lên, với ngón trỏ hướng xuống dưới, sau đó xoay vòng như kiểu bạn đang vẽ một vòng tròn trong không khí. Hoặc bạn chỉ cần nói "maai daan" (tiếng Quảng Đông có nghĩa là "Tính tiền"). Và đừng ngại nói "Mm goi" (Cảm ơn) bất cứ khi nào bạn có thể.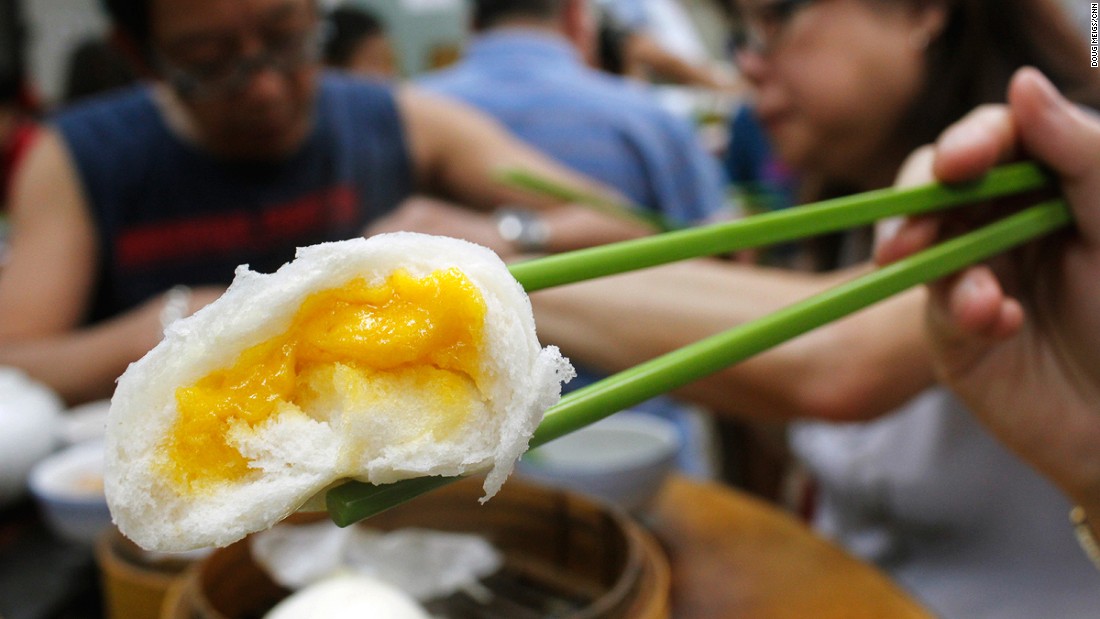 Top 10 Places to Eat in Hong Kong
WONTON NOODLES
Mak's Noodle (麥奀雲吞麵世家) – 77 Wellington St / Central
Locals often said that Mak's has a small portion (the bowl was literally the size of my hand), but good things come in small packages here. Noodles were al-dente with the tender bite-sized wontons nestled comfortably next to each other. Hey, it's so good that it has it's own Wikipedia page! Yep.
(正斗粥麵專家) – Shop 3016-3018 IFC Mall / Central
Conveniently situated at Hong Kong International airport and the IFC Mall, this places serves up food exactly as its name suggests. However, friends gave mixed reviews of Tasty even through Simon and I happily ate the beef brisket noodles here. I was so happy about the tender beef and the aromatic broth I returned for a second time. Oh and we were ecstatic about the overstuffed char-siu cheung-fun (rice rolls) too.
DIM SUM
One Dim Sum (一點心) – Shop 1 & 2, G/F, No.15 Playing Field Road / Prince Edward
After working our way through the streets of Mongkok's endless outdoor markets, we ended up at One Dim Sum where the queues were packed full of locals and tourists at 3pm. Once awarded with one Michelin star, they must be doing something right! We ordered an endless bamboo skyscraper of dim sum goodies including the star dishes of curry squid and baked char siu buns. To be honest, the dishes were good but not the best I ever had. Great value for some solid dim sum numbers though. Go on weekdays for your best bet to bag a seat before h-angry kicks in.
Tim Ho Wan (添好運) – G/F & M/F, 9 Fuk Wing Street / Sham Shui Po
The best valued one Michelin star restaurant in the world? I was sceptical with all the hype. However, after my initial experience with One Dim Sum, I realised that dim sum in Hong Kong is a household meal, and perhaps my expectation was too high for such a local's favourite. Just expect good dim sum at very reasonable prices. Nothing more, nothing less. Make sure to get the baked char siu bun, it started a cult following apparently!
ROAST GOOSE AND CHAR SIU
Yat Lok Barbecue Restaurant (一樂燒臘飯店) – 34-38 Stanley Street / Central
No trip is complete without visiting one of HK's local BBQ eateries and sample its roast goose. Yat Lok is such a famed institution. There are no smiles here and service is choppy at best. I was emotional, not because of the service, but because the bowl of roast goose and char siu over rice is just so simply tasty. A life changing experience for me, and the fact that I wanted to return for a second, third, and fourth time, says it all. Not sure if London's Four Seasons roast duck will ever live up to this.
DUMPLINGS
Din Tai Fung (鼎泰豐) – 30 Canton Road / Tsim Sha Tsui
I last tried Din Tai Fung when meeting up with a friend in Singapore. This time in Hong Kong, it was my first and most important stop to get this in my belly. Thin soft skins bursted open with aromatic soup, before I experienced the most tender bite into the pork and crab filling. Solid dumpling fare at this well-established institution so expect long queues as this is loved by locals and tourists.
Crystal Jade La Mian Xiao Long Bao (翡翠拉麵小籠包) – IFC Mall, 8 Finance Street / Central
A serious contender for Xiao Long Bao in Hong Kong. Although not as good as Din Tai Fung, it maintains all of the top qualities required to be in the big league of dumplings, pillowy texture, abundance of tasty soup and that tender filling.
HONG KONG DESSERTS
Yuen Kee Dessert (庙街源記喳咋) – 64 Temple Street / Jordan
Simon and I loved the Temple Street Night Market near Jordan. A must see if you visit Hong Kong! The sound and smells of food stalls alongside street after street of open air market vendors selling everything imaginable to mankind happens here in the evening until 11pm. Hong Kong locals love to stay out late in the nice balmy evenings. While we were looking around, we found this little gem tucked away with quite a few customers outside. We ordered an almond sago and papaya silver fungus soup, both tasted delicious and rounded off our sweet tooth really well.
Tai Cheong Egg Tarts (泰昌餅家) – Various locations over Hong Kong
Is it possible to drink an egg tart because it is so soft and gooey? Well, I think quite a few people did just that. I didn't get a chance to sample this little spot in Central but have seen quite a few happy eaters slurping down the egg tart as if it was liquid gold. Egg-cellent buy!
ICE CREAM
Cha Cha – Food Court, Harbour City Mall / Tsim Sha Tsui
I don't usually recommend ice cream places unless they were seriously good. This place makes them out of Hokkaido milk and matcha, which results in the creamiest and smoothest texture to die for. Warning: just make sure to come back for a second time to have it again, otherwise you'll be craving it like me by the time I arrived back in London.
Unfortunately, due to a limited time in the city, I could only physically fit in as many meals as I can. This resulted in a lot of overeating and indulgence, and I still haven't covered all of them.
Oh well, more for next time I suppose?
Dumplings, Rolls, Buns and Wraps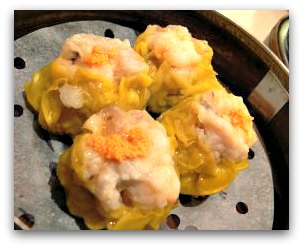 Pork Dumplings Siu Mai
These are one of the favorites. Siu Mai is steamed and made with pork, sometimes also chicken and shrimp in a thin wheat flour wrap.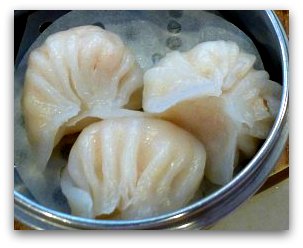 Shrimp Dumplings Har Gao
My son's favorite and a very popular one. Also steamed, Har Gao is made of shrimp, wrapped in a thin translucent rice skin. Very delicate flavor.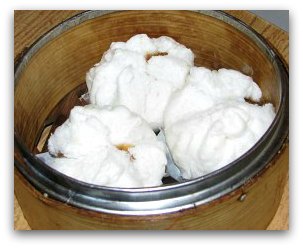 Steamed Pork Buns Char siu bao
The fluffy and spongy steamed buns are filled with our favorite meat, char siu. This is the typical reddish Hong Kong-style bar-b-que pork, spicy and sweet.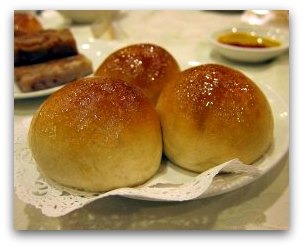 Baked Pork Buns Char siu bao
The same filling used for the steamed pork buns is used here, the buns are baked in the oven rather than steamed and drizzled with honey or sugar.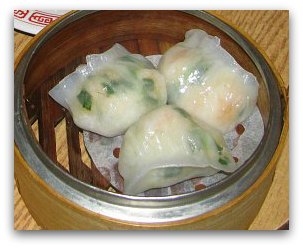 Shrimp and Chive Dim Sum Gao Choi Har Gao
This is one of my favorites. Similar to Har Gao, except it adds some chives for extra zest, sometimes bamboo shoots add a little crunchiness.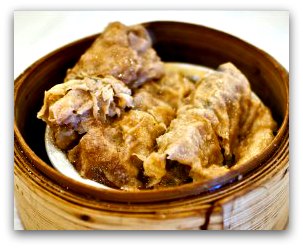 Tofu Skin Rolls Pei Guen
Chicken or pork, Chinese mushrooms and bamboo shoots are wrapped in thin tofu skin and then steamed and served in its own sauce. Very flavorful!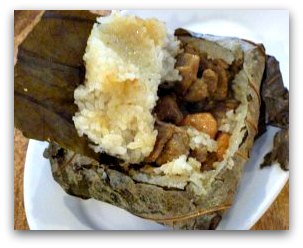 Sticky Rice Wrapped in Lotus Leaves Lo Mai Gai
The kids call it Chinese Tamales. Glutinous sticky rice with a filling ranging from chicken, pork ribs, Chinese sausage, salted egg, shrimp, dried shrimp, Chinese mushrooms. All steamed in lotus leaves, sometimes banana leaves are used.
VERY filling. You might want to leave this for last!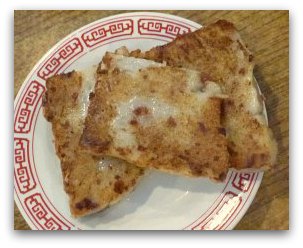 Turnip Cake Lo Baak Gou
Another favorite, made with shredded turnip, actually Chinese radish, and rice flour, mixed in the dough are tiny pieces of shrimp, pork, mushrooms, sausage. Mixture is steamed, then cut into squares, the squares are pan-fried before serving. Crispy in the outside and soft in the inside. Can also be made with taro.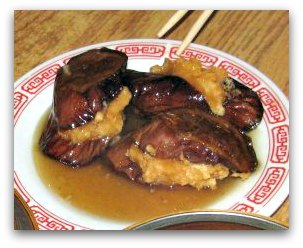 Eggplant with Shrimp
Eggplant stuffed with shrimp, first lightly pan-fried then braised and served with its own sauce. The thin long Chinese eggplant is used. We all love this one!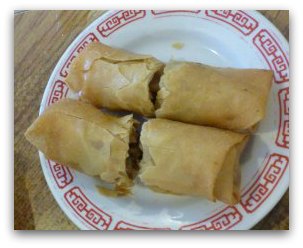 Spring Rolls Chun Guen
Even the most picky eater will have some spring rolls! They are filled with chicken, pork, or just vegetables, wrapped in a thin flaky wrap and deep-fried to a crisp.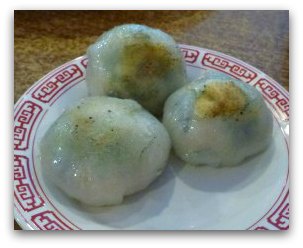 Chive Dumplings Jiu Cai Bau
The vegetarian favorite, the chive dumplings are first steamed and then lightly pan-fried so they are crispy in the outside with a moist and tasty filling. Sometimes bamboo shoots are added.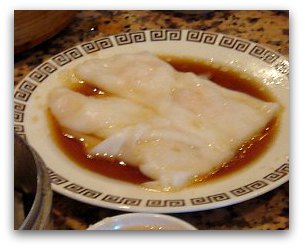 Rice Wraps Cheong Fan
These delicate rice rolls can be filled with meat or shrimp. The wrap has a consistency similar to lightly poached egg whites, they are topped with a thin sweet soy sauce.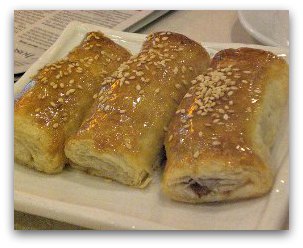 Bar-B-Q Pork Pastry Char Siu Sou
Again, the same char siu filling, this time wrapped in a flaky pastry, baked to a crisp, drizzled with egg whites and topped with sesame seeds.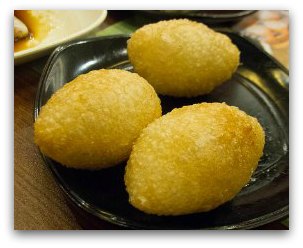 Deep-fried Balls with Meat Haam Sui Gau
The filling is pork, beef or chicken wrapped in a thick layer of glutinous rice then deep-fried. The outer wrap is crispy and because of the thickness rather chewy.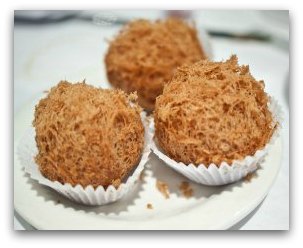 Taro Crispy Balls Wu Gok
A filling of pork and mushrooms covered in mashed taro deep-fried to a fluffy and crispy crust. The outside is light and crunchy, the inside juicy and savory.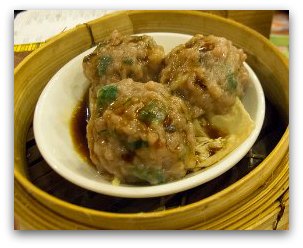 Beef Meatballs Ngao Yuk Kau
Wrapped in a bed of tofu skin, minced beef and spring onion balls are steamed and flavored with soy and Worcestershire sauce, sometimes oyster sauce.
CNN Travel