Tiffany Lee demonstrates the looks from both sides of the border from 1910 to 2010.
In 1910, women wore their hair in elaborate styles decorated with ornamental fastenings.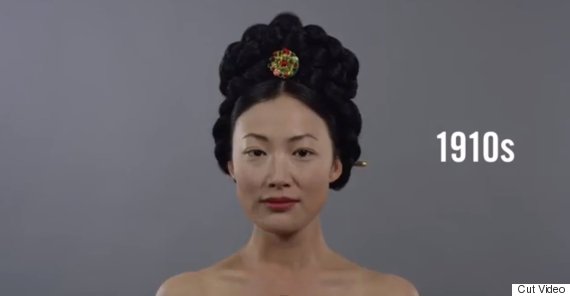 A decade later, they opted for a more natural look, wearing hair loosely tied up.
By 1940, women across Korea wore red lipstick, perhaps reflecting Western influence due to the US occupation between 1945–48.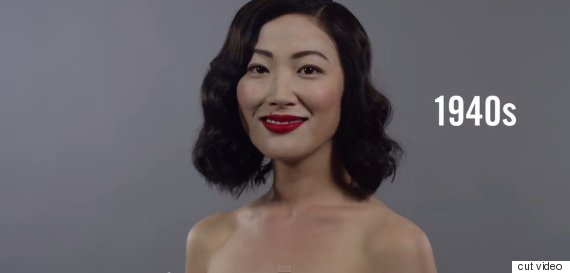 But in the 1950s, the country and its beauty standards changed dramatically.
From then on, women in South Korea emulated Western beauty standards more and more, while women in North Korea became more militarised.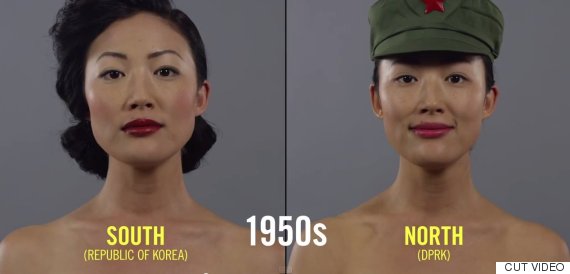 In the 1960s, looks for women in both North and South Korea became more feminine as they left the days of war behind. Fashion in South Korea was more sexualised than in the North though, as General Park restored some political freedom.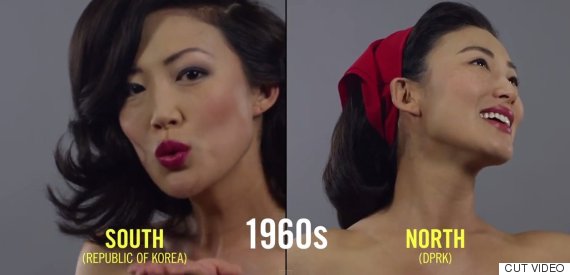 At the same time women in North Korea, under Kim Jong-il, opted for a more muted look with minimal make-up.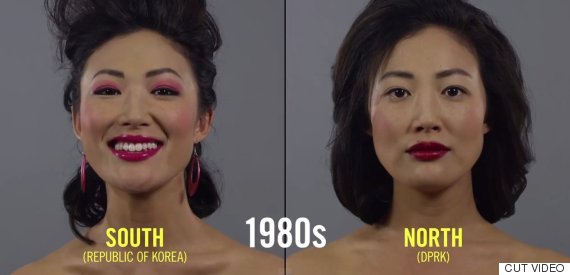 In the 1990s women in South Korea contiued to experiment with fashion and beauty, with bright colours and butterfly clips being the norm.
Women in North Korea wore their hair short and pushed behind their ears.
Those in South Korea wore smoky eye make-up and make-up much like women did here in the UK.
By 2010 the divide in beauty standards is more subtle but still present.
While it is not unusual for women in the South today to use contouring in their make-up and wear false lashes, women in the North again take a more natural approach to make-up.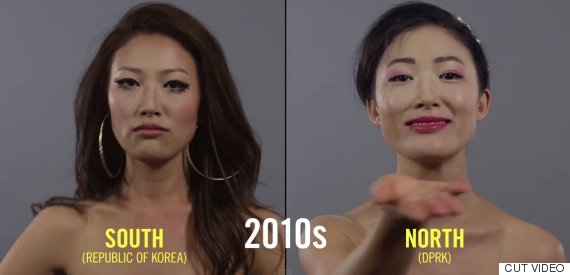 The production company Cut has made a name for itself by creating videos that look back at the history of beauty in various countries, including China, Ethiopia, Brazil and Germany. The videos show the different hairstyles, fashion and makeup that each decade was known for, with one model trying on all of the looks.
Now Cut has focused its lens on Japan by showing the dramatic changes Japanese women have gone through in the past century — ranging from the classic white makeup and big hair from 1910 to modern day kawaii style — all in 103 seconds.
1910
1920
1930
1940
1950
1960
1970
1980
1990
2000
2010
Xu hướng làm đẹp của phụ nữ Nga 100 năm qua đã được tái hiện sinh động chỉ trong một phút.
Ngắm vẻ đẹp phụ nữ Nga qua một thế kỷ
Các xu hướng làm đẹp của phụ nữ Nga 100 năm qua đã được tái hiện sinh động trong một phút. Thông qua cách trang điểm và làm tóc, diện mạo của ngôi sao Anya Zaytseva đã thay đổi nhanh chóng. Clip bắt đầu với xu hướng làm đẹp của những năm 1910 và kết thúc vào những năm 2010.